Regular price
$684.99 USD
Regular price
Sale price
$684.99 USD
Unit price
per
Sale
Sold out
Rocker Type
Triple Camber – Every function of a snowboard is now improved with Never Summer's new patented Triple Camber Profile... edge hold, stability, power, pop, speed, float, forgiveness and smooth responsiveness. Words and images are never going to do it justice!
Single Camber Profile – Camber between the feet for edge hold, power, and pop.
Extended Transition Area – Never Summer adds a small flat section in the snowboard profile that improves both turn initiation and powder flotation.
Flex
Flex Rating – 8 (1 Soft - 10 Stiff)
Dampness Rating – 6 (1 Lively - 10 Damp)
Shape
Vario Power Grip Sidecut – Vario Power Grip Sidecut utilizes multiple radii creating extra contact points to enhance edge hold. A flat section in the rocker area provides a broad contact point when flexed, but allows the board to track straight and not catch when unbent. Flanking this straight section are two shallow radii, which provide the second and third contact points. Towards the ends of the sidecut are deep radii which render quick turn initiation and the final contact points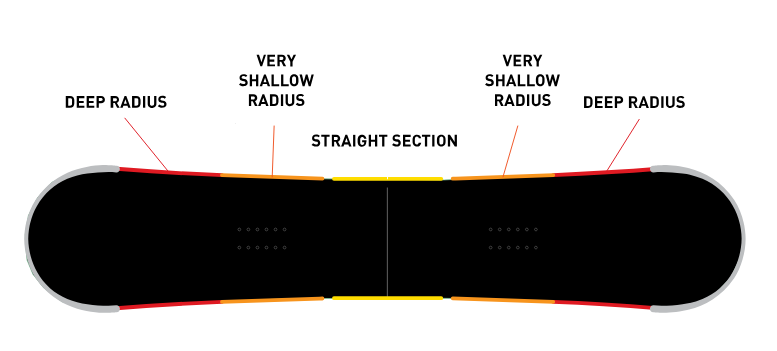 Low Profile Tip/Tail – A low profile in the nose and tail of the snowboard maximizes material contact with the snow for more powerful ollie/nollie pop and stability to your landings. Low Profile Tip/Tail also reduces the plowing effect in the nose for better glide to the next feature and superior float when it's deep.
Core
WooBoo Core – The WooBoo Core is a precise mix of the highest quality woods and bamboo that brings out the ultra-performance in each material.
Laminates
Carbon Max Laminate Technology – More carbon equals more power and performance. The Carbon Max Laminate Technology combines an advanced top and bottom carbon matrix to maximize response and strength where it's needed most. The result is a lightweight yet powerful configuration that provides torsional rigidity and energy transfer without sacrificing the control a rider needs.
Bi-Lite Fiberglass – Bi-Lite Fiberglass combines many of the strength characteristics of Never Summer's STS fiberglass with an ultralight glass fiber matrix. This delivers incredible freestyle and freeride performance without sacrificing durability.
RDS 2 Damping System – This lightweight system uses three narrower laminated dampening layers that provide the perfect combination of vibration, absorption, and stability. RDS 2 is the perfect balance of freeride stability and freestyle liveliness.
Elastomeric Underfoot Stabilizers – Elastomeric Underfoot Stabilizers directly below the mounting area provide optimum vibration absorption and increase high-speed stability while reducing foot fatigue.
Harmonic Tip / Tail Damper – Harmonic Dampers in the tip and tail take out a high percentage of residual vibration by quieting the nose and tail. This enhances stability at speed, in variable snow conditions and on board landings without deadening the liveliness and pop of the cambered areas.
Sidewalls
Sintered P-Tex Sidewalls – Never Summer was the first snowboard company to use and perfect Sintered P-Tex Sidewalls, and they've never seen one crack. Unlike conventional ABS sidewalls that have a tendency to crack in colder temperatures, Sintered P-Tex Sidewalls maintain their integrity at any temperature.
Base
Durasurf XT Sintered 5501 Base – Crown Plastics has developed an exclusive, super fast, durable sintered base specifically for higher end boards. Just the right amount of graphite has been added making the Durasurf XT Sintered 5501 Base the fastest Never Summer has ever used.
Topsheet
Premium Coextruded Polymer Topsheet – The Premium Topsheet is a durable, lightweight, scratch and chip resistant fiber backed thermoplastic. The premium topsheets also provide more grip than other topsheet materials, working as a built-in stomp pad.
Terrain:

Freestyle, All-Mountain

Terrain

Freestyle

Freestyle or park snowboards tend to be a bit shorter in length and love terrain parks, rails, jibs, trash cans, tree trunks, riding switch (non-dominant foot forward), wall rides and more. Freestyle boards often feature a true twin shape, and are typically selected by those looking to ride the terrain park. A more versatile variant of a freestyle board is the all-mountain freestyle, which combines the versatility of an all mountain snowboard with the playfulness of a freestyle snowboard.

All-Mountain

All-mountain snowboards are designed for exploring the whole mountain. They are your go-to for a snowboard that will do anything. They feel at home on groomers, powder, park runs and almost anything in between. The vast majority of snowboarders choose all-mountain boards for their great versatility. If you're just getting started or unsure of exactly what you need, an all-mountain snowboard is a great choice.

Ability Level:

Advanced-Expert

Ability Level

Advanced-Expert

Whether you charge the steepest lines, hit the biggest jumps in the park or carve with race-like precision, advanced to expert level skis, snowboards, boots and bindings are for the more aggressive rider. In skis and snowboards, you'll often find layers of metal, carbon or other stringers for rigidity and power, while advanced to expert level boots and bindings are usually on the stiffer side of the spectrum for rebound and precision steering.

Rocker Type:

Camber/Rocker/Camber

Rocker Type

Camber/Rocker/Camber

Camber/Rocker/Camber is a profile that's specific to snowboards and which works because the rider's weight flattens the two cambered areas. This design produces a strong, pressured carving zone between the rider's feet and retains pop and carving precision at the tip and tail.

Shape:

True Twin

Flex Rating:

Stiff

Flex Rating

Stiff

The amount a snowboard flexes varies significantly between boards. Snowboard

 flex ratings are not necessarily standardized across manufacturers, so the flex may vary from brand to brand. 

Many manufacturers will give a number rating ranging from 1-10, 1 being softest and 10 being stiffest. Here at evo we have standardized the manufacturers' number ratings to a feel rating ranging from soft to very stiff. Generally you will find flex ratings of 1-2 as soft, 3-5 as medium, 6-8 as stiff, and 9-10 as very stiff. Flex ratings and feel may ultimately vary from snowboard to snowboard.

Binding Mount Pattern:

2x4

Core/Laminates:

Bamboo, Carbon, Wood

Athletes:

Chris Corning

Made in the USA:

Yes

Warranty:

3 Years

Warranty

3 Years

Visit  for more info.
| | | | | |
| --- | --- | --- | --- | --- |
| Size (cm) | 154 | 157 | 160 | 163 |
| Effective Edge (mm) | 1180 | 1210 | 1230 | 1260 |
| Tip Width (mm) | 308 | 309 | 311 | 313 |
| Waist Width (mm) | 260 | 262 | 264 | 266 |
| Tail Width (mm) | 308 | 309 | 311 | 313 |
| Sidecut Radius (m) | 7.31 | 7.61 | 7.82 | 8.06 |
| Width | Regular | Regular | Regular | Regular |
Share
View full details